Part 5 so soon? Yeah man feeling slightly better and there are so many authors to introduce! I remember this all started as an idea for a pinned post in the group on Facebook and it somehow turned into a blog, not to mention the group grows bigger every month. I'm planning at least another 6 posts about the authors and after that it's on to my fellow bloggers/reviewers and of course the team behind Grimdark Magazine.
Brian Barr has written short stories, comic books and novels. His writing is pretty unique considering he doesn't steer clear of LGBTQ characters instead he embraces them. His short stories have been featured in anthologies and his most recent work The Head inspired by a dream he head came out just last month
A woman finds a head in her mother's garden.
Things get weirder when the head talks to her…
http://www.brianbarrbooks.com/
Richard Writhen Originally from Rhode Island, Richard Writhen also lived in NYC for about ten years. He has been e-published on several notable sites such as the MightyThorJRS Blog, Techzwn.com, Grimdarkmagazine.com and Ragnarokpub.com and is the author of three novellas on Amazon KDP; A Kicked Cur, A Host of Ills and The Hiss Of The Blade. Richard also writes short form in the styles of Gothdark, Grimdark, GDSF and Psychological Horror, and will eventually be exploring the weird west.
Two petty mercenaries are falsely accused of switching sides in a feud between two rich and powerful magnates; an ex-miner on the run from a murder charge becomes a reaver and embroiled in a romance; an industrial lieutenant is recruited to help capture a serial killer and an entire city is in danger of being ensorcelled by an ancient monk.
https://richardwrithen.wordpress.com/
https://www.facebook.com/wrychardwrycthen/
https://mightythorjrs.wordpress.com/2017/02/08/guest-blog-the-planet-the-gods-and-the-magic-by-richard-writhen/
Wade Garret author of Genesis is one of my favorite new authors on the block, he writes dark fantasy with a steam/dieselpunk twist. His first novel inspired by Dune and the Dark Tower is called Genesis (Kingdom Come Series) and was published in 2013
Jak Hartlen, 19, the son of William and Mary, will face many thresholds of flesh and mind on his road to reaping the Whirl Wind; seeds of grief and guilt only now coming to fruition.
If only they'd know what they were doing…
The Gan and their Areht who shape the world behind the scenes will hate him, because he's a threat they're not sure can be chained. The Pillars and their Faithful who spread the world's leading religion will fear him, because his existence, once known, will challenge Ages of dogma and accepted history.
The Crimson King and its Servants who seek to return to power, destroying all that remains of The White, will hunt him, because even in death, they're not sure he'll ever bow to the Dark. They all Should. For as One of Five with the power to shake the world, they will hollow his heart and mind through countless sacrifice and vengeful selfishness.
Among the many authors of the Grimdark group there are also quite a few familiar faces like James A. Moore you know the guy from Bloodstained Oz and Buffy the Vampire Slayers novelization Chaos Bleeds. He's been nominated for the Bram Stoker Award for best novel for his book Serenity Falls. James has written so much in several genres his most recent novel is called The Last Sacrifice
Since time began, the Grakhul – immortal servants of the gods – have taken human sacrifices to keep the world in balance and the gods appeased. When they choose the family of warrior Brogan McTyre, everything changes.
Brogan begins the toughest battle of his life to free his family from their terrible fate. But when you challenge the gods, you challenge the very fabric of society. Declared an outcast, Brogan and his kin are hunted like criminals – but nothing will stand in his way.
http://www.jamesamoorebooks.com/
Last for today is Josiah Bancroft his writing is as beautiful as his art. He also writes poetry which has been featured in dozens of magazines luckily for us he also writes fantasy. His first novel is Senlin Ascends ( The Books of Babel ) and came out in 2013 it is part of a quadrilogy.
Senlin, a mild-mannered school teacher, is drawn to the Tower of Babel by the grandiose promises of a guidebook. The ancient and immense Tower seems the perfect destination for a honeymoon. But soon after arriving, Senlin loses his young wife, Marya, in the crowd.
Senlin's search for Marya carries him through slums and theaters, prisons and ballrooms. He must survive betrayal, assassination, and the long guns of a flying fortress. But if he hopes to find Marya, Senlin will have to do more than survive. This quiet man of letters must become a man of action.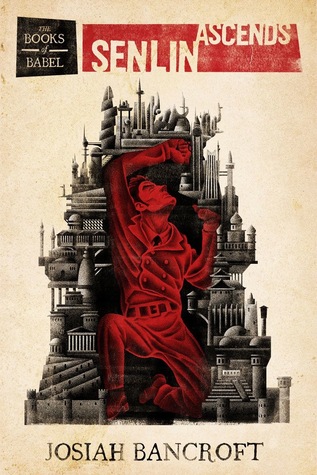 http://www.thebooksofbabel.com/
I'll try to keep up this time around wouldn't want y'all to get bored + you know we have to keep stacking up on our tbr piles. Something I didn't mention before is that many of the authors featured also sell their books doodled through Facebook and their websites so feel free to poke them about it just don't poke about release dates
https://www.facebook.com/groups/grimdarkfiction/
Here's a picture of our Lord Dark Matheny in his younger years